Flamenca Beach Commercial Centre
Playa Flamenca
Here are details of the shops and other businesses which are in the Flamenca Beach Commercial Centre.
To get here is easy – it is next door to La Mosca commercial centre, so along from the Alameda del Mar roundabout, just off the N332.
It is also along the road from the Centro Civico Alameda del Mar, Orihuela Costa in Calle Santa Alodia.

Of course, there may have been some changes since I made this list.
Recent changes are marked *

Many bars have entertainment in the evening ranging from karaoke to opera to disco to Irish to hard rock. It's all here.

In the summer there are many other attractions in the Flamenca Beach Commercial Centre for all the family. For example:- bouncy castle, punch bag, instant caricatures, fortune telling, etc.

I have tried to list everything for completeness, but some may not be of any interest to you while you are on holiday.
There are so many places to eat and drink in the Flamenca Beach commercial centre that I have not been able to try them all.
Food and drink outlets are in bold.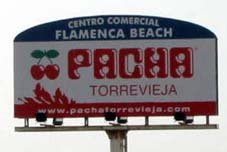 Flamenca Beach Commercial Centre
Street Level
Bancaja - bank
Bits and Bobs - good hardware store and key cutting. Also barbers.
*moved
Scouser Ian's British barber has moved inside on the middle floor
King Kod
- fish and chips take away
Maritao's Kitchen
- Asian restaurant - good reports
First entrance past Maritao's
*new
Dental Clinic
Estrella - insurance
Kensington clothes shop
*for rent
European sun – estate agent
Snobs bar
*for sale or rent
San Anton vet
Second entrance
*open
RTA Europe - business sales specialist
Macey's - café and
mini mart
, also stationery, 2nd hand books, British newspapers. Open 7.30am to 10pm
Servus
German bar and steak house, also pasta and pizza.
Total Stationery – shop on the corner, has internet
up the steps to -
Spud Murphy's
- café, restaurant, take away - best fish and chips? Very popular - best to book in summer
Sports bar
- Flamenca family sports bar – also snacks
Breeze
- lounge bar. Look for the C in the logo - C - Sea Breeze.
Papaya Tree and Mr Hung's
Thai restaurant - good reports
Rose and Crown
- English pub and food
Café Rio
- good basic food
*for sale?
Pretty Neat – shop with stationery, hats, wrapping and cards, etc
*new
Vida
refurbished as a tapas bar and coffee shop. Must try it again when I can. See in the section on
Our Favourites
Quick Save - was Jacks and Sons –
mini mart
, still has British products
Cococabaña
- Italian restaurant - has good pizzas
Posh – beauty salon closed
*new
Tattoo and Piercing - Manchester Steve and Brtish barber Scouser Ian, and some lovely clothes in Logos shop
Leonardo
Italian restaurant - recommended - more expensive than most
Penny's
mini mart
and English butcher. New partnership, the butcher moved from Playa Flamenca promenade. Open 7 days, summer 9am to 10pm.
That Amusement Place – upstairs internet 1€ for 20 mins - opening hours - open?
The View
sports bar - closed
Bridge across to the next section
Pirate bar
- for rent. Live rock in the evenings
*now open again?Shakira Indian restaurant
– recommended, also does take away
Bo Jangles
Irish bar - closed
Games and Grooves - CDs, DVDs, games, phone cards.
*
Internet, 1€ for 20mins - upstairs was closed the last time I was there
Top Hair hairdresser
Cornish Pride
- café – Cornish pasties, etc. Recommended - good pasties, wide variety; eat in, take away or frozen to cook at home. Also good smoothies
Kopi
German bar and restaurant.
Scooby Do - shoes and bags
3 empty units
Boomerang
replaces The New Cube bar
Celtic Drop
Irish bar – internet, 1€ for 12 mins
New World
Chinese restaurant - good food, good value, try the menu del dia
Barbella´s Bistro
- Greek style grill - closed
The Laundry Shop - ironing, laundry, alterations and dry cleaning
4 empty units
Déjà Vu
- modern Irish bar. Live music.
Witchery restaurant
Antisha - jewellery, mirrors and frames, gifts
Health and Beauty Abroad - British toiletries, baby stuff, 2nd hand books
Trilogy brokers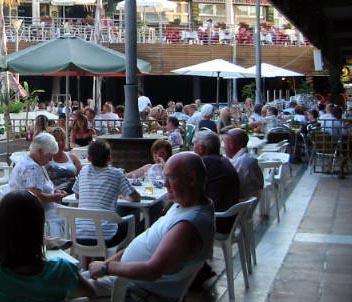 Flamenca Beach Commercial Centre
Upstairs
Sweet Dreams bedding – closed
ImpPub
- closed
Londoner pub
- closed, for rent
Zipa Dee Doo Dahs – indoor children's play area
*
for sale, open at weekends
Leinster House
Irish bar
Slow Boat
Chinese restaurant for rent ?
Jaipur Palace
Indian restaurant - closed, for sale
Buster's
bar - recommended, friendly, all day breakfast and good food
Manhattan
bar
Eszterhazy
Hungarian restaurant
Phoenix Nightz
bar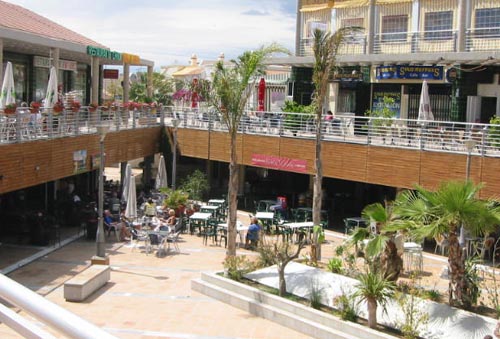 Flamenca Beach Commercial Centre
Lower floor
Lansdowne
Irish bar - good for sport. New food franchise - D4. See in the section on
Our Favourites
Laila
kebabs, and other types of food
Amba Sun International estate agent
Diva
Indian restaurant
Marco Polo
Italian restaurant
Temple bar
food and drink, live music - The Blues Brothers
slope from street
Shakers
disco bar
*
for sale or rent
several empty units
*gone
Chaplin
Swedish pizza place?
*new
Bar Fever
Funky Budda
*
now closed again
Che
American style steakhouse
Bazar - cheap clothes, bag etc
Goodfellas
- pasta and steaks
Legends
bar – food and drinks - recently refurbished, now open again after a fire
Chevaliers
restaurant - has kangaroo and ostrich on the menu
Tapas bar
- for rent
Rosie O'Grady's
Irish bar, food and drinks
McNeill's
Scottish restaurant
Il Gladiatore
Italian restaurant - good reports
Crazy Canyon
Saloon bar - for sale or rent
Good Food City
Hong Kong Chinese restaurant
5 empty units
Quattro staglione
- good take away pizzas. See in the section on
Our Favourites
JBPropety estate agents - closed
El Paraiso
- kebab and burger café
Dracula
night bar
Bayside 08
- Indian and Italian - for rent
Bailey's Bar
Return from the Flamenca Beach Commercial Centre
to Playa Flamenca Commercial Centres
Return to Visit Playa Flamenca home page
Book your holiday accommodation
parts of page updated 31 January 2010