La Campana Commercial Centre
From Punta Prima roundabout to Alameda del Mar roundabout

Here there are details of the shops and other businesses,
including La Campana Commercial Centre, which lie along the landward side of the N332 between the Alameda del Mar roundabout and the roundabout for Punta Prima.
To find out about the things on the other side of the road, click here

To get here from Alameda del Mar, simply walk along the N332. There is a blue pedestrian bridge for crossing the road.

Of course, there may have been some changes since I made this list. I have listed everything for completeness, but some may not be of any interest to you while you are on holiday.
Food and drink outlets are in bold.
Recent changes are marked *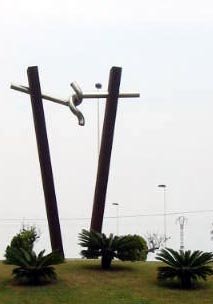 Starting at the
Punta Prima roundabout:-
Camping site - seemed deserted in February.
Dinastia Wok
- Chinese restaurant - VIP wok
Bazar Chino
Brat Fritze van
- German sausage van in car park
Garage Estapal has toilets and an ice cream van in the car park
Bazar Espanol - interesting selection of things from household goods, kitchen goods, stationery, sewing things to furniture and paintings, etc. Always loads of stuff spilling out onto the street
La Campana Commercial Centre
Sol bank
Sabadell - ?
Barclays bank
Mundo Meubles - furniture shop
Bancaja bank
El Carmen
- pasteleria - cakes to die for, also snacks and freshly squeezed orange juice
Shine - hairdresser
Da Rosa
- tapas bar and restaurante
Upstairs
Citrus Red SL - 900 telecom.com
Prima dental care
Medaesthetics cosmetic surgery and beauty and nails
PC Relief computers
Mediter estate agents
Style House - furniture and house services - replacing Cerabano - bath and shower shop
Brico House - DIY Shop
*closed
*new
Bei Jing Bazar - yes another one
Aldi -
supermarket
Depaso Cepsa garage - Elf, has toilets
New Commercial Centre called San Antonio on Avenida California – still being built.
Click here
for more information.
Carrefour -
supermarket
, electrical goods and housewares
Asturias -
* closed
*new
Big Wok
Chinese restaurant
B Smart motors – sells cars !
Go Karts –
*refurbished
now much bigger, all sorts of fun for all the family, also has a cafe which was busy with Spanish folk. Photo coimg soon
El Capitan
German fish snack bar
Supermarket Vidal
Butcher – on the seaward side of Lidl
Lidl -
supermarket
at the Alameda del Mar roundabout
Rocky's Arena bar
- Photo below
Burger King
across the roundabout from Lidl
Playa Flamenca Burger King and Supercor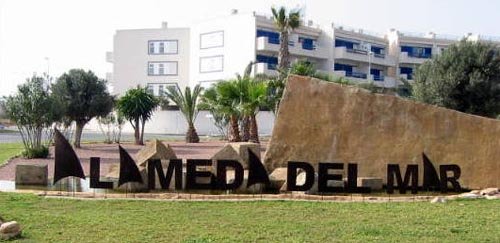 Alameda del Mar roundabout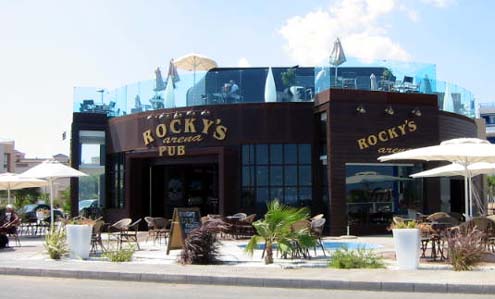 Rocky's Arena Bar Playa Flamenca
Return from La Campana Commercial Centre
to Playa Flamenca Commercial Centres
Return to Visit Playa Flamenca home page
parts of page updated 14 March 2011