La Mosca Commercial Centre
Playa Flamenca
Here there are details of the shops and other businesses which are in
La Mosca Commercial Centre.

To get here is easy – it is across the roundabout from Lidl, just off the N332.
Also at this roundabout are Burger King and Rocky's Arena bar.
La Mosca CC is also across the road from the Centro Civico Alameda del Mar, Orihuela Costa, in Calle Santa Alodia. Look out for the huge Supercor sign.

Of course, there may have been some changes since I made this list.
I have listed everything for completeness, but some may not be of any interest to you while you are on holiday.
Food and drink outlets are in bold.
Recent changes are marked *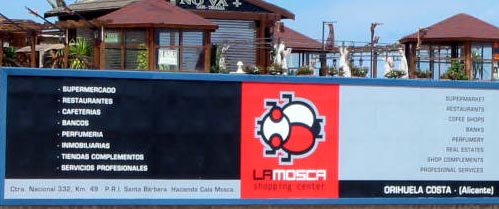 La Mosca CC Playa Flamenca.
Downstairs
Rural properties – estate agent - closed
*closed
Vodaphone shop
CamBank
MarviMundo – shop with toiletries and perfumes
Stairs and up escalator
Supercor -
supermarket
- Cortes Ingles group
More stairs
CajaMurcia - bank
Ford property group – estate agent
Upstairs
Cafeteria Deluxe
- this is in the fab corner location.
Sunrise
– restaurant and bar – recommended, with a great view and Flamenco in the summer
Toilets round the side – opening hours seem variable
Fire escape - short cut to the street Calle Santa Alodia
Athena Tavern
- Greek restaurant, good food and snacks and a good view
*new
VP advisers
Diferent –
*for sale
Is Logo here?
BlingBling – shop selling bags, hats, gifts, etc
Saffron
Indian restaurant, has a branch in
Villamartin
Serge creations – shop has Lladro
ABC abogados solicitors
Menorquina Kaise
Ice cream in the
Sunrise
Ice Cafe and Cocktail Bar
Halifax building society -
*closed
Return from La Mosca Commercial Centre
to Playa Flamenca Commercial Centres
Return to Visit Playa Flamenca home page
Page updated 18 February 2011