Playa Flamenca beach
Shops, cafes and bars
The Playa Flamenca beach shops, cafés and bars at the beach are arranged along three sides of the building, which of course, is apartments upstairs.
Are all sides in Calle De Las Orquideas or are the front line ones in Calle Los Alheues? Must check.
Of course, there may have been some changes since I made this list.
I have included everything for completeness, but some may not be of any interest to you while you are on holiday.
Recent changes are marked *

How to get here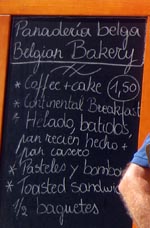 Side to south nearest to Cala Estaca
Launderette – closed and for sale – anyone want to start a new business?
Sunny Jim's
bar and café
* new
Paul Cunningham Nurses charity shop - this has a good selection of second-hand clothes, books and goods and can take your donations
* new
Delicias M&M Belgian butcher shop
* closed
electrical shop
Spanish made easy - Spanish school run by a Spanish lady
Amber
Belgian café and cakes
Cash in the Attic
Francesca Louise interiors - interior design textiles, nice stuff she makes herself
Oasis café
– nice little café, snacks and great smoothies, good position near to the Playa Flamenca promenade
Del Engel Lobster restaurant
– this has the prime corner position and great views, more expensive than many, frozen glasses for beer with nibbles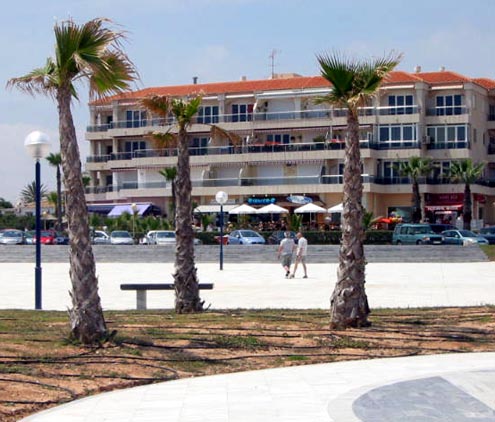 Playa Flamenca beach shops, cafés and bars from the promenadeFront line * new Coffee Del Mar
replaces the New Aroma coffee house - café, good breakfast specials, snacks and coffee
Surfers
bar and café, menu looks good
* empty
Estate agent moved round the corner
News Box - prime position on the north corner - beach goods, British newspapers, toys and gifts
North side next to Cala La Mosca* new
News Box has expanded into this unit
The Mail Room - stationery, gifts etc
*
Flemish estate agents moved from the front line
Correos - post office
Summer Arts and Crafts Market
During July and August, to supplement the Playa Flamenca beach shops, there is a market on the Promenade 7pm to 1am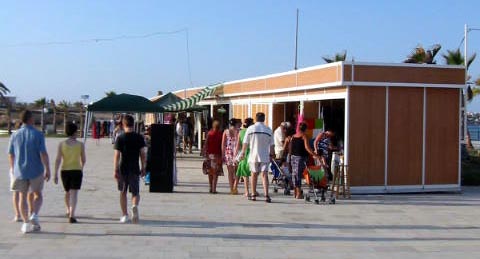 Playa Flamenca Promenade Arts and Crafts market
Route to Playa Flamenca beach, shops and promenade
from Alameda del Mar.
New Route
Using the cycle track along the N332.
You can either cross the road at Supercor and walk along the seaward side
or join the cycle track at Burger King and walk along the landward side of the N332 to the Police station and go left through the underpass there. You have to cross the road here, then take the first road to the right and you will come down to the beach !
Say 20 minutes, tops
Below is the old route , which is still valid, but longer.
To avoid crossing the main road use the underpass at the Playa Flamenca Town Hall - Ayuntamiento.

On Calle Santa Alodia, pass the Centro Civico and walk past La Mosca CC and past Playa Flamenca CC. Turn left at Total Stationery and walk past the New World Chinese restaurant, go down the road to the right hand bend. Go up the steps on the left. At the end of the street turn left in Calle Pablo Picasso - you can see the sign for the Maxx gym. Walk towards this – you want to have Mercadona on your right and the Times Square American diner on your left. There is a road sign for Playa Flamenca, go to the end of the row of small shops and turn left into the underpass.
When you emerge in Calle Violetas you go left, (the bus stop is above you). Cross the road at the crossing, continue for abit, and turn right at Calle Las Orquideas and head for the sea.
There is a Y junction, both arms go to the promenade. The left arm goes to the north end – the right arm goes to the south !
This takes about 25 minutes of strolling.

The Direct Route - crossing the main road at the roundabout near Supercor, and going over the rough ground - takes about 15 minutes. The building work along the N332 is ongoing so check it out – a good place to see what's going on is from the Sunrise bar/café upstairs from Supercor. .

Return from Playa Flamenca Beach shops
to Playa Flamenca Commercial Centres

Return to Visit Playa Flamenca home page

Page updated 14 February 2011