Via Park Commercial Centre
Playa Flamenca
Via Park 1 and Via Park 2
Via Park 1 and 2 are opposite each other where Calle Jalon joins Calle Mira.
Perhaps it is easier to say that if you stand in front of the Celtic Isle with the road where the market is (Calle Nicolas de Bussi) on your right, then Via Park 1 and 2 are just a short way along the road in front of you.
Many places in the Via Park commercial centre seemed closed but it was January.
If anyone wants to let me have corrections, I would be grateful. I don't want to cause any bother with inaccuracies.
Of course, there may have been some changes since I made this list.

***new I have been back - Setember 2009 - and have listed some changes below.
There are still alot of vacant and closed places - such a shame.

I have listed everything for completeness, but some may not be of any interest to you while you are on holiday.
There are so many places to eat and drink here that I have not been able to try them all.
Food and drink outlets are in bold.
Via Park 2 Commercial Centre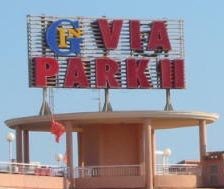 Via Park Two commercial centre, Playa Flamenca

Small Play Park round the side
Judges Chambers
- pub and food
TLK internet café – 10 stations, 1€ for 15mins, second hand books and a freezer with British goods.
***
Business for sale due to retiral
Captain Carter's
fish and chips - closed and for sale
Sportsman's bar
– internet too
Empty lot
Mobility
The Hideaway
– hidden away at the back – café bar – Spanish lessons here
***new
Brian's Takeaway
not Little Brit – open for fish and chips, burgers etc.
Buddha tandoori
Indian restaurant
Buddies
bar and café, good cheap food, (my omelette looked and tasted great), auctions on Thursday afternoons
Next door – new something or still empty?
***
Was Mulligan's but also now for sale
Hair studio
Upstairs
Chino Villa Costa Chinese restaurant
Another empty and for sale shop

Via Park 1 Commercial Centre

***new Palalibde (?) Pizza Italian replaces the estate agent
Temaco, empty and for sale
Changi café – closed? for sale
Framby – closed? - being refurbished?
Legs and Co – closed and for rent
Electromesticos – closed
Asociacion Vega Baja closed and for sale - was G L Medien ?
Arte by Bouquet - closed and for rent
Chino Fei He - open Chinese restaurant
Key tech computers and mobiles
***new Vialli's Steak House, Pizza and Grill restaurant - under new ownership - open
website for Vialli's Upstairs
Fitzpatrick's Irish bar - is this open? It wasn't at 6.30pm on the friday evening. ***
Chino International Chinese restaurant - open
Lu's bar – for sale or rent
Pavarotti Italian restaurant - open
La Perla Italian - closed ***
3 Camels bar – Mexican? closed? ***
Atlantis Fish and Chips - for sale or rent
Another empty for sale or rent
Puri hairdresser

Next level up
La Vecchia trattorio – closed and for sale?
Causeway Bistro Irish seafood and steaks - is this open? It wasn't at 6.30pm on the friday evening. ***

Basement
Hungarian House restaurant Piroska

Return to Playa Flamenca Commercial Centres

Go to Visit Playa Flamenca home page
from Via Park Commercial centre

Book your holiday accommodation

Re-vamped 28th September 2009