La Zenia to Cabo Roig

To La Zenia from Playa Flamenca Cala Estaca
I went on this walk in November and then again in February so I am telling you how it was at those times of the year. I will be going back in the summer to check on it all. Well someone has to do it.
So starting from Playa Flamenca, then La Zenia to Cabo Roig.

From Calle Las Margaritas and the Playa Flamenca snack bar, you go through a small gap in the wall and along a narrow rough path towards a globe lamp post on the edge of the cliff.
It seems as though you are in someone's front garden along parts of this path and in fact, you can see their planter boxes along the sides of the track. Again, I don't know the names of the plants, although I recognise the Livingstone daisy like plant along with agaves and a yellow oxalis. There is a shrubby plant with small white flowers, which could be a viburnum?
This is a wonderful walk with gold sand and turquoise sea when it's calm, with jewel pools and weird rock formations. When the weather is wild the waves crash onto the rocks and it is spectacular. There are many rock pools to investigate if you want to scramble among them.
Every now and then there are steps down from the path to the shore for access. Not that it's very far. People were fishing here on one of my trips.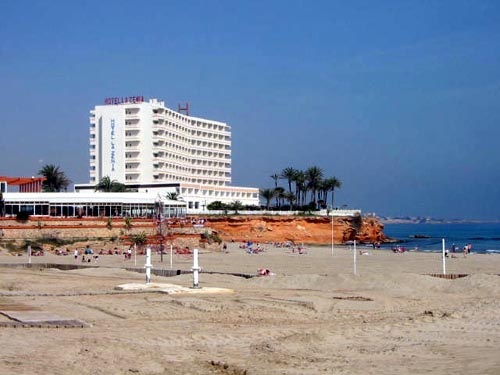 La Zenia Hotel and beach Cala Bosque

La Zenia
The next bay is La Zenia Cala Cerrada, which has a beach quality control certificate. There is a paved prom at the back of the beach with seats and an open grassed area. It is lovely. The beach is cleaned every day and has 2 water stands which will be showers and toilets in the summer. I must go back to check this – hopefully soon.
There is wooden decking and steps down to the sand. This is quite a small beach but very attractive. There is also a small playground at the top.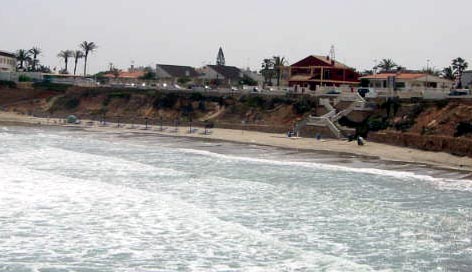 La Zenia Cala Cerrada May 2008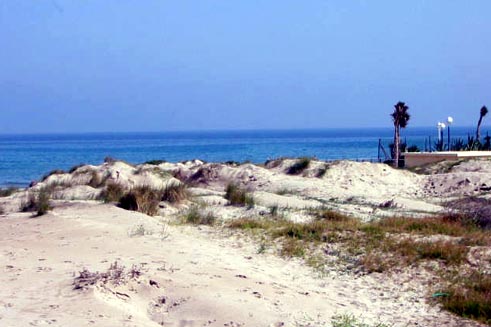 La Zenia Cala Bosque

The hotel La Zenia is next to this beach – past its car park is the café and restaurant La Mirada. This is a good place to sit and look out across the blue Mediterranean Sea and enjoy the fact that you are in Spain.
There is also a beach goods shop, a swimming pool, and a pool for children here.
From the restaurant you can get direct access to the next beach, which is La Zenia Cala Bosque which also has a beach quality control certificate. You can also get onto the beach directly further round. This is a lovely large beach with about 7 water stands in winter, which again will be showers and toilets in summer. Of course, if you are having a small refreshment at La Mirada you can use the facilities there. There's also a beach volleyball net, a rope climbing frame, and even a lookout tower.


View at La Zenia Cala Bosque from La Mirada July 2008

Round the back of the sand there's a paved prom with the usual lamp posts and palms. The last time I was there, there was a new log low fence or wall at the back of the beach. I wonder what it is for? Oh no, not another reason to go back.
Found out in July it is to separate the beach from the toilet block !!


Between La Zenia and Cabo Roig
Just beyond this new wooden thing there is a concrete gravel section, which joins into paving again right round to the start of the next bay. This bay has a rocky island and a gently sloping beach, which create a sheltered shallow lagoon, which has lovely warm calm water. Adults can wade quite a long way out with the water only up to knee level, so it is great for kids.
A short rough path joins the paved path round the edge of this beach, which is Cabo Roig Cala Capitan, a blue flag beach. This is also cleaned daily, and has 3 water stands. Again, there is a beach volleyball net and a climbing frame. They were laying decking for the facilities when I was there on 27 Feb. 2008.

In the car park, there is a phone box and just along side is Chez Felix, which looks like a good restaurant.

You walk through the car park to join the path on the other side of the beach to get to the next beach. This is another graded shallow bay with no name but one water stand.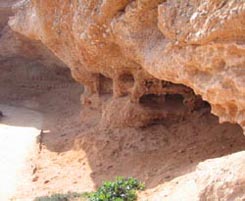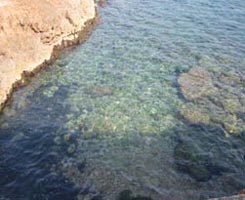 If it has been raining parts of this path get very muddy.Also, be aware that the Spanish idea of health and safety is quite different to ours and in some places the drop from the path to the rocks looks pretty scary, without any sort of rail.
As you go along there are various interesting looking steps up, which I must investigate some time. Some seem to go to private houses but not all of them.
From here, the path is a bit more rough but easy going.
Suddenly there is no beach, the shore is very rocky and there are strange worn cliffs with cascades of plants hanging down. The rock pools are amazing and there are many fissures and rock formations and sandy pools. It's great to look at, don't be in a rush, just take your time. You can be sure that's what I did.

At one place, the path goes up to a road and a small car park. It is called Calle Bonancible, near Calle Granizo. I must find out where this is – it's near to Cabo Roig of course.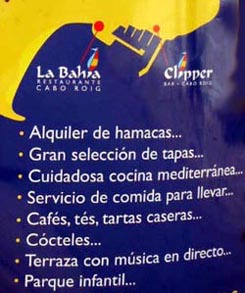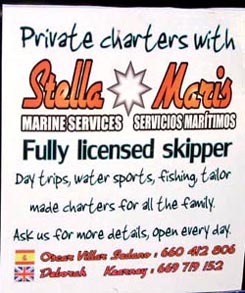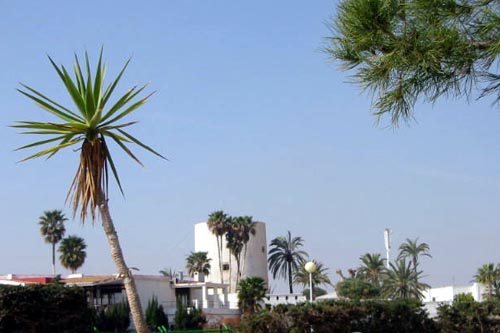 Soon after that there is a short stretch of the path with tiled walls – must be the front of a house I think. Quite extraordinary though to come on this as you are walking along a public path along the beach. Also, look out for the old Cabo Roig tower which you can see from the path. I think it has been made into a restaurant now.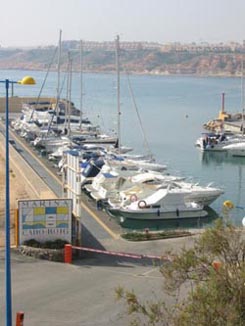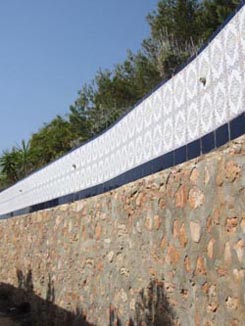 Cabo Roig
It's not long now before you come to the harbour and marina at Cabo Roig. This took me 1 hour from La Zenia on the way there and 40 mins on my way back. At the Marina, Avenida El Cabo meets Avenida Mediterraneo.

Walk down the drive and take the road round to the marina and beach, or walk along the top path and look down on it all. There are several sets of steps so you can change your mind.

At the far end on top path there are steps up to Calle El Torreon and car parking.

On the bottom path is the Clipper snack bar looking out onto the marina. There are all sorts of things to do here including fishing boat hire. Walk round the lower road, past the round building, which I think, is the harbour offices.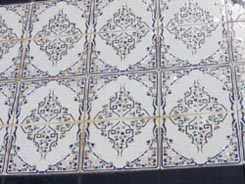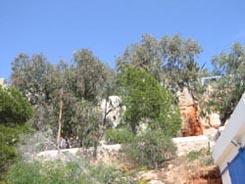 You come to the restaurant La Bahia (the bay). This serves great tapas and is very popular. On Feb 27th all the good tables were taken at 2.30pm. Their menu del dia was 14€, a bit more expensive than some places but what a location. The main menu included lemon soufflé and crepes as well as tapas. At that time, it was shut on Thursdays.

There are sun loungers and parasols here and a wonderful view out to sea. On a good day you can see La Manga and the mountains beyond. Wow.
I sat on a bar stool under a parasol and enjoyed my glass of rosada. It was lovely and warm even in February.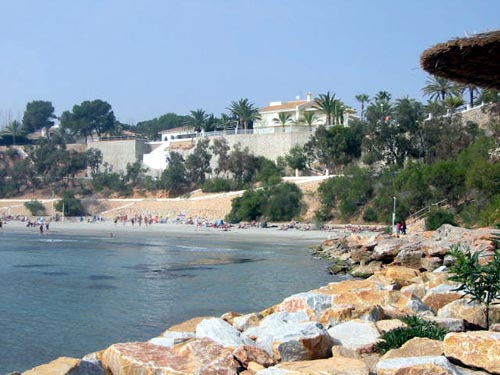 Cabo Roig La Caleta

The view includes the next beach, which is Cabo Roig La Caleta which has a beach quality control certificate and is also a blue flag beach. It was busy too even in February. It has greyish sand, 4 water stands and a beach volleyball net.

There's another small beach past a rocky outcrop with one water stand, but I didn't get to this one, and don't know its name. I'll go another time and find out.
I had a wee rest and then returned the way I had come. It's amazing that you can see even more good stuff going the other way too. There was a big white bird fishing in the shallows along here and the rock pools looked different from another angle. All in all pretty good.


Yes, I had had another lovely day out.

Return from La Zenia to Cabo Roig to Playa Flamenca beaches

Return to Visit Playa Flamenca home page

new photos added 6 August 2008