Visit Playa Flamenca updates
Back from Playa Flamenca
Well back from sunny Spain to Scottish wind, rain and greyness. However I have lots of updates - mainly on Commercial Centres - and new photos as well. I will be putting them online over the next week or so, so look out for new information !


Happy New Year 2011
Well New Year and soon onto updates.
I am visiting Playa Flamenca soon and will be checking new developments and so on.
If you have anything you want me to add or check, let me know via the contact form.

Oh Boy Oh Boy
What idleness
It is now August 2010 and I have done very little to update my site.
So apologies to all for the lack of amendments and corrections and info on new happenings.
I have updated Vialli's in Via Park I thanks to info received, and I am hoping to visit soon to check my records and get back to revisions.
Looking forward to being in Spain.

March 2010
Back from Playa Flamenca - yet again to Scottish snow and frost.
However I had great weather in Spain - guess I was pretty lucky as it has been pretty hit and miss there this winter.
So I will have some minor updates for commercial centres and a bit about my try out of going to Torrevieja on the little bus.
I have to admit I was abit lazy this visit and didn't do as much as usual.
Have to have a down week occasionally!

And will just have to go back!!!

Hello and a Happy New Year to you all.

Just been given this link for the Puccini Restaurants - one in Punta Prima and one in Cabo Roig - which allows you to print out a 10 euro voucher.
I have heard good reports about this place but have not yet visited it myself. Hopefully I will be able to use my voucher soon.
Still ice-bound in Scotland.

Click here for Puccini restaurant

Just want to wish you all a
Very Merry Christmas
and
A Happy New Year
from Snowy Scotland.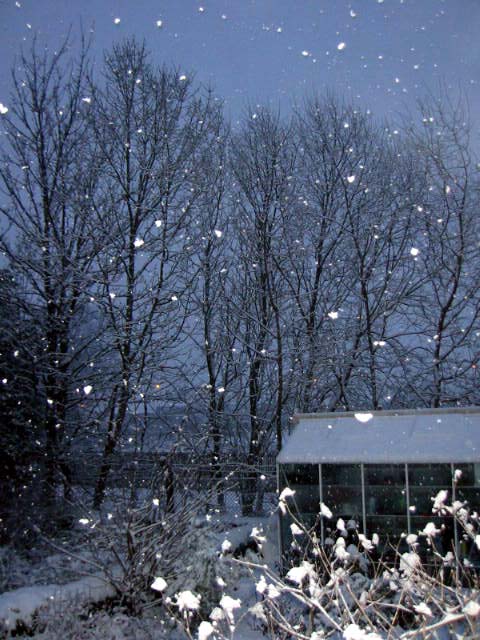 December 22nd 2009, my garden

September 2009
Yes I am home again and back to the Scottish rain.
However all was not wall-to-wall sunshine in Playa Flamenca.
It was bucketing down when I arrived at the airport and it rained for the next 4 days - well, not all day, and warm rain.
But the first day the thunder at lunch time was amazing and the rain torrential. So the roads were awash; river-like really.
Next day was a repeat - thunder for over an hour at lunch time before the rain started. Not quite so much rain this time.
And the next two days it was less and less.
Of course in between the showers it was lovely.
As was the weather for the rest of my stay.

Well enough of that and onto updates.
I shall be adding more information about the local bus service which I travelled on, and updates for commercial centres and some supermarkets.
Also more photos and who knows what else?
So check back soon to find out.
Off to load up my pix now.

Also don't forget my Winter Special Offer.

Yeah Hooray
I shall be computer free for some time then I will be back with updates and photos.
Yeah !!

And see the Winter 09/10 Special Offer here
I am going to Playa Flamenca in September.
I will be leaving the rain of Scotland behind for my husband to enjoy and am taking myself off to sunny Spain.
Looking forward to some warmth and then revising this website when I get back home.

Well here we are July 2009
And still pages missing - New place to visit – Guardamar and updates to the pages on Torrevieja and Cartagena.
Soon soon I hope.

However now I have a
REQUEST for HELP
I am unfortunately unable to get to Playa Flamenca at the moment.
So you lucky ones who are going – please let me know if you notice new things happening – I expect quite a lot will have changed since I was last there in January.
I want to keep my website as up to date as possible.
So if I you have the time I would be very grateful for some updates on what's going on.

Thanks in advance and have a great holiday.
You can contact me here

January 31st 2009
I am currently in Playa Flamenca and we have done a fair bit of research this time. Now my husband has gone home and left me his laptop and internet dongle I will get some of the info online.
The plans are thus:-
A new Food and Drink sector with a section on Spanish places,
and an Our Favourites section.*done
Some new Commercial Centres – *done La Florida, Via Park I and II and a street in La Zenia. *done
Full update of the other CC pages and the supermarkets and mini marts page.*nearly all done
New place to visit – Guardamar and updates to the pages on Torrevieja and Cartagena.
I will be working on these as fast as I can, so check back – or sign up for the RSS and never miss an update.


December 2008

Hooray a new page - now great pictures of Cartagena.
I'm afraid the page has little text so far but there are great photos by my sister Carol. Take a look.

My Special Offer is still on for holiday dates to March 2009.

November 2008

My Special Offer - 20% discount on accommodation at El Rincon for November 2008 to March 2009.

Coming soon, my husband's info on changes at Flamenca Beach CC.


**Revisions done September 2008**
I even managed to do some updating when I was in Playa Flamenca in July - but they will have to be re-updated - must have been the heat.

I will try to keep the old pages up-to-date as well as adding new info.

Right - August - I have thoroughly updated the shopping page to include info and links to the new stuff.
Also the supermarkets and minimarts page has had a re-furb.
I have added some new photos to the La Zenia to Cabo Roig beach walk page.
There is a new page with photos of Orihuela.
There will be some words here soon.
*Now Done in September 2008* :-

Revision of existing pages including the Internet access page,
the Playa Flamenca beach page and the many Commercial Centre pages.
(They keep changing - we live in a dynamic world.)

Plus new pages on Things to Do and Torre de Horadara.

Previous updates :-
Some photographs of the varied plants growing locally.
Playa Flamenca plants.

Photographs of Villamartin Plaza.

New photos of the Playa Flamenca beaches taken in May 2008.
Beach photos.

And details of some of the businesses, bars, cafes and restaurants on Avenida Parana and Calle Niagara.
Avenida Parana here.

This next bit is now rather out of date.
I will be updating the update page in 3 or 4 weeks.
Have done and will do again.

Hola
I have just returned from a week in Playa Flamenca. Lucky me.
Now I have lots more to add to this site and loads of new photos.

As soon as I have done my washing and loaded the photos I will be updating my pages with fresh information and adding new pages.
For example,
The new commercial centre at Punta Prima, called Punta Marina.
Pictures of the new marina at Torrevieja.
And - jazz on Saturday afternoons at Horizonte Plaza.

Check back soon for the new stuff.


Okay now I have done some of it.
There is a new page for the Punta Marina commercial centre -
Punta Marina info here.

And a new page for the San Antonio commercial centre -
San Antonio information here.

And I have thoroughly revised the
Playa Flamenca commercial centres page.

And as promised here is a photo of Horizonte Plaza during the Saturday afternoon jazz.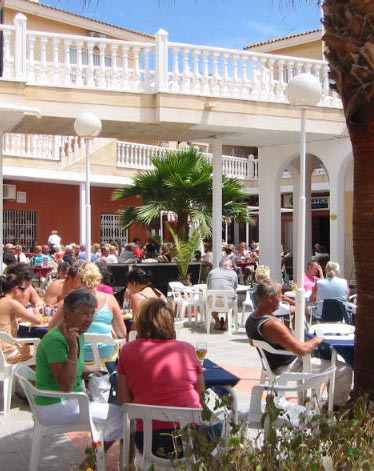 Horizonte Plaza - live music on Saturday afternoon

Just added a page for the Playa Flamenca street market with loads of pictures. Go to street market page

And the new marina at Torrevieja and more pictures along the sea front.

Return to Visit Playa Flamenca home page

Page revised 2 March 2010.

Book your Playa Flamenca holiday apartment