Citrus Commercial Centre and
Horizonte
This is a small commercial centre situated at the crossroads of
Calle Limon and Calle Clementina – you can see why it is called
Citrus Commercial Centre.
It has shops, bars and cafés, and restaurants.
It is very convenient for El Rincon and Alameda del Mar.
How to get to Citrus CC

Of course, there may have been some changes even since I updated this list. Recent changes are marked *
I last visited at the start of February 2011.
If you notice something out-of-date, why not let me know?
I have listed everything for completeness, but some things may not be of any interest to you while you are on holiday.
I will have to try them all out sometime soon. I have tried some already.
Food and drink outlets are in bold.

I have to apologise here and say that I have found out the section over the road from Citrus is called Horizonte commercial centre. The businesses here have clubbed together, revamped the garden, and created a plaza - an outdoor space for tables and live music.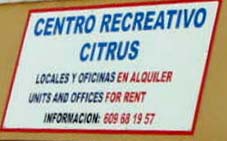 Citrus Commercial Centre

Friendly bar
Johnstone's Internet café -*extended - is attached to the supermarket round the back!
Poco Loco - café and bar - they now own the place over the road
Todo Loco, formerly The Sundowner
*estate agent - moved across the road - upstairs at Home Life properties
White Rose restaurant and bar
Tropicana – café and bar, friendly, internet access - 3 stations 1€ for 30 mins
Johnston's mini market - British brands and 2nd hand books. ** Part of the internet café
Rani's - Indian restaurant

Upstairs at the Citrus Commercial Centre
Wok Asia buffet – Chinese. I think this is the sort where you pick up your raw food and they cook it individually while you watch.
Zest – hairdresser
Racin´Toast - place your bets and eat breakfast or evening snacks.

Across the road from the Citrus Commercial Centre:-
Horizonte Commercial Centre
Barbara Kiss – estate agent
Office bar - internet 1€ for 10 mins but printing is free and you can use your memory stick. See Our Favourites
Bar Harlequino and Restaurante Maria - Run by Spaniards serving pizzas and Spanish food, including fish and chicken. See the section on Spanish food
Heidi's hairdressing
Sundowner bar * sold to Poco Loco and called Todo Loco
Moonfleet Inn *closed
*new Molly's bar and café and
*new Sarung Banggi - Fillipino / German café bar - small and cosy, on the Horizonte Plaza inside terrace / patio, behind the hairdresser Heidi.
Eriksson restaurant – right round the back *moved to the new restaurant "Roberts" in Punta Prima
Coming soon - Italian Pizzeria.

Svenska skolan – Skandinaviska Skolan - upstairs
Homelife – estate agent - upstairs

Live music outdoor space, last time I saw it the live saturday music started about 1.30pm until 4.30-ish

There is also a Telefonica telephone booth outside the Todo Loco bar. Pretty convenient – get your friends to buy you a drink while you phone home.

Horizonte Plaza and saturday afternoon jazz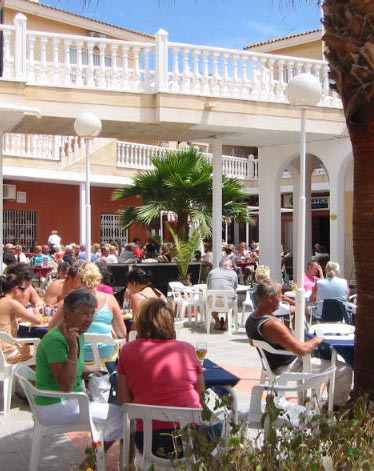 How to get to Citrus CC from El Rincon
Very easy – go round to the back of El Rincon and exit by the new gate. Turn left and then take the next right into Calle Clementina. You can see the big yellow Wok Asia sign. Two minutes to the crossroads.

See my detailed map for help.

Return from Citrus Commercial Centre
to Playa Flamenca Commercial Centres

Return to Visit Playa Flamenca home page

parts of page updated 21 February 2011