Punta Prima Shops
Bars, Cafés and Restaurants
Here there are details of the Punta Prima shops and other businesses which lie along the seaward side of the N332 between the Alameda del Mar roundabout and the roundabout for Punta Prima.
To find out about the things on the other side of the road, click here.

To get here from Alameda del Mar, simply walk north towards Torrevieja along the N332.
There is a blue pedestrian bridge for crossing the road to the seaward side. Most of the Punta Prima shops are in this area.

Of course, there may have been some changes since I made this list. Recent changes I have made are marked *
I have listed everything for completeness, but some things may not be of any interest to you while you are on holiday.
Food and drink outlets are in bold.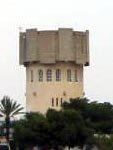 Starting at the Rotunda, which is the first thing at the southern end of the row. I think this is on the corner of the N332 with Calle Fragrata.
Here is a list of the Punta Prima shops and businesses on the seaward side of the N332.

Rotunda – Merendo Socovos - bar and café – no more Sunday car boot sales
Basket ball and tennis courts
La Pizza Nostra - Italian restaurant has been replaced by
the New Asturias Pizzeria. This is in our favourites.
Crevi Costa – shop with clothes, shoes, hats, sewing threads, kids stuff, and all kinds of things, plus furniture upstairs
Ferreteria – ironmonger shop – rugs, paint, kitchen stuff, diy, garden chairs, etc
Autos Corleone - sells cars
Puccini – Italian restaurant
Taxi rank
Estate agent selling properties in Hungary
N332 - bar and restaurant
Mekong - Thai and Asian food
Euro Bazar - one of those shops which sells everything - clothes, bags, household, sewing etc.
Telebanco ATM
Don Quijote Ferreteria – ironmonger, has all kinds of things including diy, kitchen and household goods
Taj - ?
Pan and Vida *closed now doner kebab shop
moved - Olala - hairdresser and beauty salon - moved to Punta Marina CC
new supermarket and Indian spice shop
Elite – shop selling newspapers, magazines, books, hats, toilet paper, souvenirs, etc. Strange collection.
Elite - salon cafeteria
Auto Mechanica Rocio del Mar - garage
German restaurant
Gelatera ice cream and Italian food
BBVA bank
Don Quijote - Spanish café and bar
Tio Sem - cafe and bar
Gandhi - Indian restaurant
Money exchange - internet 1€ for 20 mins, also rentacar, fax, photocopying
Farmacia – chemist, practise your Spanish before you go in
Banco popular bank
Jack G's sports bar - bar and café
Eclipse - café and bar
Mr T - café and bar
Santander bank
Rouges - restaurant *closed
*new Robert European food - from Erikson at Horizonte
Flower shop
Estate agent
Punta Prima roundabout
*new Fit4All - health and wellness beauty centre
Torrehoven Hotel and Cantabrico restaurant with disco area

There is a new commercial centre beyond the roundabout on the landward side called Commercial Punta Marina.
Click here for more information.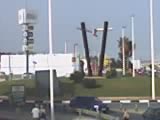 Return from Punta Prima Shops
to Playa Flamenca Commercial Centres

Return to Visit Playa Flamenca home page

Parts of page updated 14 March 2011