Punta Marina Commercial Centre
Punta Prima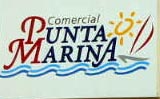 Punta Marina commercial centre is fairly new.
In May 2008, not many of the business spaces downstairs were in use, but the top floor - which is mostly cafes, bars and restaurants - was almost fully occupied.
The situation is pretty much still the same in February 2011.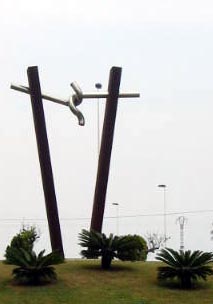 To get here from Alameda del Mar, simply walk along the N332 towards Torrevieja.
After the blue pedestrian bridge, you can see the Punta Prima roundabout.
The new commercial centre is on the roundabout on the left.


Of course, there may have been some changes since I made this list.
I have listed everything for completeness, but some may not be of any interest to you while you are on holiday.

Food and drink outlets are in bold.

Recent changes as at February 2011 are marked *.
Punta Prima roundabout

On the other side of the roundabout is the Hotel Torrejoven, with the restaurant Cantabrico downstairs.
Also here there is a *new health and wellness centre.

To the left of the centre used to be Eroski but *new now Consum supermarket.
There is also 24hr petrol which is still Eroski.
Next door is Milar electricals – white goods and TVs etc.
*new Shoe B Shoe.
*new Farmacia.

Further along the front of the centre -
Cam Bank is shut, but there is still an ATM.
*new Jysk hogar - was shut for stocktaking, so had to peer in the window, I think it has household stuff. Anyone know?
MacDonalds.

Downstairs – only a few of the spaces were taken.
Druni - toiletries, perfumes etc.
Hire Centre *closed
*closed? Empire DVD rental
The Card Place - cards, stationery.
Shoe shop - Step by Step – some great shoes and not the same as the others you see everywhere.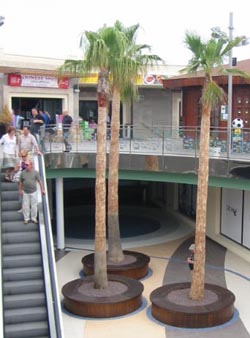 Palm trees in the Punta Marina commercial centre

Upstairs – mostly cafes / bars / restaurants

Nautilus Plaza - sort of American style hamburgers, pizzas and ice creams.
Wok buffet Asia III - need I say more?
Chinese shop *closed
Subway – yes: Subway.
E Style estate agents.
O la la beauty salon – moved from along the road.
Timeless fashions – English women's clothes.
Yu Chinese restaurant – bit fancier.
Captain's Table - claims to have the best fish and chips. Also has toasties etc and cheap breakfast.
Dave's family sports bar and cafe.
*new La Piazza II - pizzeria, restaurant and cafe replaces the Greta Garbo restaurant.

Facilities
Upstairs there are a few public toilets - not in great order when I was there.
However there are more and better toilets in the basement - accessible by stairs and lift.

Return from Punta Marina commercial centre to
Playa Flamenca commercial centres

Return to Visit Playa Flamenca home page

Book your holiday accommodation

Page updated February 19th 2011