Torrevieja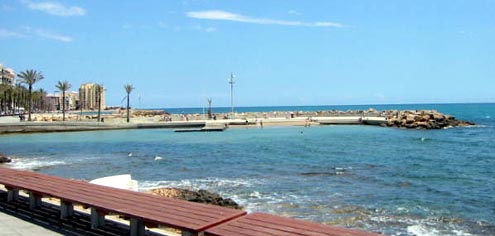 The promenade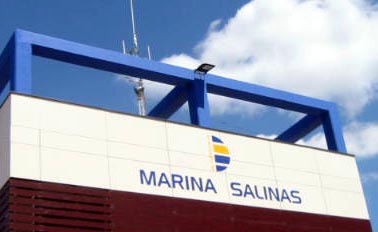 There is a new marina here, which has berths for many yachts and cruisers. It is called Marina Salinas.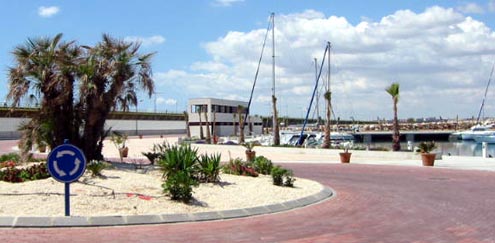 There is also an area for bars and restaurants - not all of these are occupied at the moment. This will be a great place to have a drink or a bite to eat when it is all finished, especially perhaps in the evenings.
The view is lovely and there has been a lot of attention paid to the finishing off.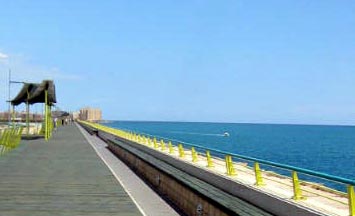 From the marina, you can go up steps onto the elevated walkway. This goes between the land and the sea really, and is a lovely way to get your exercise, strolling along in the sun.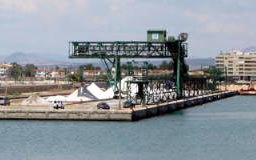 As you walk out to sea, you can see the conveyer which carries the salt to be shipped away.
The salt is extracted from the salt lakes; there is a museum about the salt industry in Torrevieja and another one nearby which I will investigate.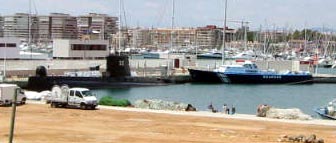 You can visit a submarine and a coast guard boat too if you wish. I think this is free.


When you return to the shore, at the end of the walkway to the right is the lovely promenade. Here there are palms trees and statues, all beautifully laid out. There are lots of places to sit and look out to the blue Mediterranean Sea. There are also many swimming and sunbathing areas, which have been built at suitable bays along the way. This goes on bay after bay.
The end of the walkway and the start of the Promenade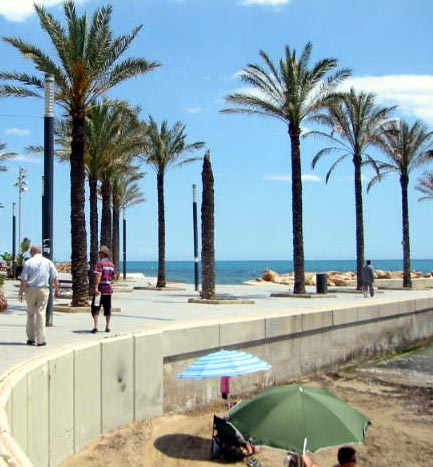 Torrevieja promenade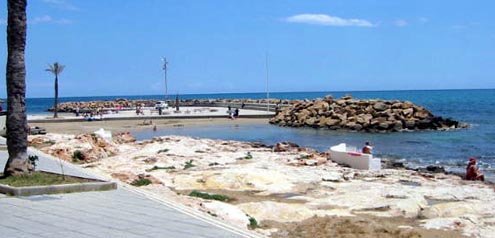 The promenade and a swimming area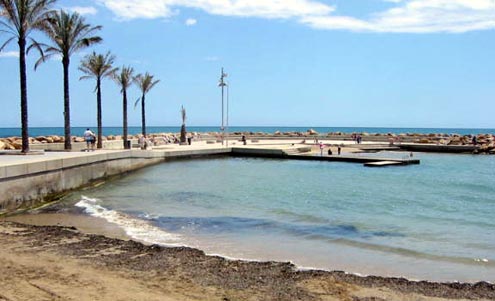 Torrevieja promenade and a swimming area


Also along here, there are loads of street cafes to tempt you to a small refreshment, or a wee snack or even full on lunch.There are various street entertainers here too – Incas with their whistles, musicians with violins and guitars, and a mime artist. They will come round with the hat of course if you are sitting down.
Along to the left of the walkway is a row of permanent market stalls, which lead you on to the harbour. At the moment there is a massive building site here, which is a mess, but I guess it will be lovely when it is finished !
There is much more to Torrevieja than this – I will be expanding this page.

Book your holiday at El Rincon apartment

Return from Torrevieja to Places to Visit

Return to Visit Playa Flamenca home page