Playa Flamenca Town Hall
Shops, Cafés and Bars
Playa Flamenca Town Hall is on the landward side of the N332 between the La Zenia turn off and the Alameda del Mar turn off.
There is an underpass here, which allows access, and allows pedestrians to cross the N332 more easily. In fact, there are two underpasses here.

I think it should properly be called Orihuela Town Hall, or Ayuntamiento de Orihuela. Or should it be Orihuela Costa?
It is at the end of Calle Pablo Picasso, which seems to be wrongly marked on some maps. See my detail map for the correct location.
There is a tourist information office in the Playa Flamenca town hall, just inside to the left.
The bus stop for Cartagena is here just outside the Town Hall and the bus stop for Alicante and Torrevieja is across the road. The tourist information office can give you a bus timetable.
They can also give you the timetable for the "wee" bus which can take you to the new Torrevieja hospital and to Cabo Roig.
There is an article with good information on this wee bus here
There is a web site for the town hall, which is in Spanish and English. You can get plenty of useful information from it.

How to get to the Playa Flamenca Town Hall

Shops, Cafés and Bars nearby
There are two areas of commercial premises here. The first is a small shopping mall, which includes the Mercadona supermarket, and the second is the premises along the road beside the town hall and round the corner down to the underpass.
Of course, there may have been some changes since I made this list. Recent changes are noted *thus with food and drink outlets in bold.
I have listed everything for completeness, but some may not be of any interest to you while you are on holiday.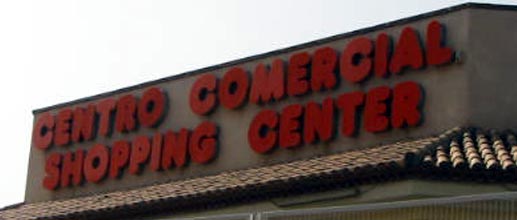 Mercadona Commercial Centre
When you first go into the front door just on your right there are toilets and lockers for your bags or trolley.

Straight in front is the Mercadona supermarket.

Along the opposite wall are:-
Sewing repairs *closed
Picasso Spa – health and beauty shop – nails, waxing etc
Master Cadena - electrical goods shop
Flowers and plants - shop
Catalana occidente *closed
Lottery – small booth
Tiny bookshop
Buffalo shoes – they are *no longer at La Campaña CC along the N332 towards Punta Prima
Clothes shop - name?
Vicos - watches jewellery
Hairdresser - Inma's Hair shop
Shop - name? Has phone boxes, fax, fancy goods, gifts, kitchen stuff, internet
Picaso café – Spanish with allowances for the British - snacks and meals, good prices
More toilets in the corner beside the café
Optica - optician
Artes Cova - art supplies and artwork, including Diferent, which is also in La Mosca CC
Sports shop - Deportes sport? This has golf and sports clothes and goods





Outside there are shops and businesses around the corner of the street.

Juguetilandia – a big toy shop on the main road side
Bazar Asia – got a mad selection of things - household, toys, clothes, garden furniture, crochet cotton, clocks, etc
Bankinter bank

Edificio Orihuela – offices that house:-
Torresatelit – TV satellite company
Blue box tanning salon
Maxx gym
Suma
Carrasco - accounts and consulting
Dolche Vita - hairdressing?
Thadertur - estate agent and travel agent
Policlinica - medical and dental clinic, ENT, physiotherapy & osteopathy
Marzena – another hairdresser
Fischer optician

Also along this street:-
Residential Playa Flamenca estate agents *closed
Times Square – pub on the corner now open as an American style diner. This was closed for refurbishment last time I was there.

Side road:-
Gentleman's hairdresser – well barber really
Closed - Mundo Meubles – furniture shop – they are also at La Campaña CC
Picasso Garden and Gifts *closed
*new Helvetica rufan + spar (?) telecoms
Dry cleaners
Greek Inn - small café with tables outside *closed What is here now? Mini mart closed for holidays?
Optica Fischer – optician
Cam bank – bank *closed

How to get to Playa Flamenca Town Hall
from Alameda del Mar.
Old route
On Calle Santa Alodia go past La Mosca CC and Flamenca Beach CC, turn left at Total Stationery. Walk past the New World Chinese restaurant and go down the road to the right hand bend – go up the steps on your left. Walk to the end of the street and turn left - you can see the sign for the Maxx gym. Walk towards this – the Mercadona supermarket and mall are on your right. Keep walking towards the main road – the Playa Flamenca Town Hall is on the opposite side of the road to Bankinter. You can recognise it by its turquoise pillars. The front door is on the N332 side.
New route
Join the new cycle path on the landward side of the N332 at Burger King and simply walk along there to the Town Hall - easy. You can also get easily to the beach here via the underpass.
If you like to dice with death you can cross the road at Supercor and take the cycle path on the seaward side direct to the beach.

To get to the Playa Flamenca beaches from the Playa Flamenca Town Hall takes about 5 minutes.

To get to the beaches:-
From the Cam bank at the end of the row of small shops, turn left into the underpass. When you emerge in Calle Violetas you go left (bus stop is above you). Cross the road at the crossing, continue for abit, and turn right at Calle Las Orquideas and head for the sea. There is a Y junction, both arms go to the promenade. Left goes to the north end – there is a small shop and a snack bar. The right has a few small shops and there is another café and a restaurant there too.

For more info on the shops, cafés and bars at the Playa Flamenca beaches click here.

Return from Playa Flamenca Town Hall
to Playa Flamenca Commercial Centres

Return to the Visit Playa Flamenca home page

Parts of page updated 10 March 2011