Las Ramblas Golf Course
Summary
• 50 Euros
• 20 mins (pretty easy to find)
• Par 72
• SSS 72
• Length 5718M (~6200yards)
• Quirky interesting course with some great holes and some that will confuse you the first time!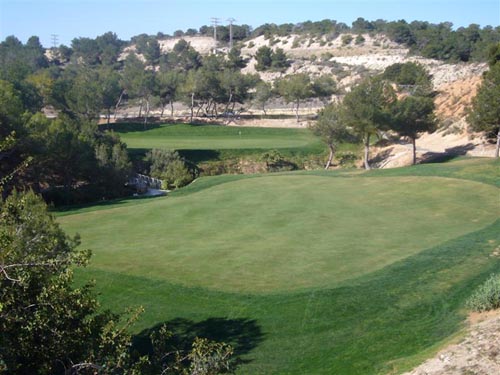 The 4th hole at Las Ramblas golf course

Directions
1. Turn right at Alameda del Mar roundabout (Lidl) and head south on the N332
2. Go through two roundabouts
3. Take the branch road to the right signposted Las Ramblas
4. Follow the road for ~5 mins till you see an arch
5. Go through the arch and carry on up the road until you see a car park
6. Park in the car park and the club is round the corner up a steep path

Description
I found this course great fun but I know some have found it quite difficult.
The front nine in particular is quirky and it can be difficult to know where you are meant to hit it, off the tee.
There is quite a lot of hitting irons off the tee but there are also some spectacular holes – my favourite was the 4th.
The back 9 is a bit more conventional, again with some good holes and a couple of kind of strange ones.
I really enjoyed the course but if you go expecting to play to your handicap then you may get slightly annoyed.
The course is pretty easy to walk though there are some fairly steep hills.

Other advice
Buy a course guide!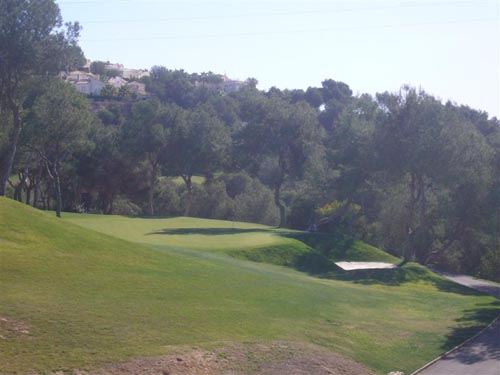 The 6th hole at Las Ramblas golf course

You can also see the guide for La Finca golf course and Campoamor golf course.

Words and pictures by Gordon Bell

Return from Las Ramblas golf course to Playa Flamenca golf courses

Return to Visit Playa Flamenca home pgae