Things to do Outdoors
in and around Playa Flamenca
Here are some suggestions and ideas for outdoor activities. I cannot recommend them as I have not tried them all - I am passing on information for you to make you own judgement - and have fun.

Please mention Visit-Playa-Flamenca.com if you contact any of these.

Bike Hire
Dialabike delivers and seem to have a good reputation.
Another option is Costa Blanca bike hire

What about a Quad safari? They will pick you up from your accommodation. Click here for Quad Safaris

Leisure Trails are at Casa la Pedrera at Torremendo which is just west of San Miguel de Salinas.
They have horse riding, quad bikes, cycling, sailing, fishing, and archery. They also do pick ups, directions are on the Leisure Trails web site which is currently being re-built and so is temporarily unavailable.

There is also Archery behind the new Fun fair along from the Go Karts on the N332.

For Scuba diving look up the Dive Costa Blanca website.

Surfing classes
Ex-pro surfer (Spanish and English speaking) available to give surfing classes from beginners to high level of all ages - all you need is your own equipment!
For info pack, price and class schedules, please email newwildsun@hotmail.es


Boat Hire
There are many oppurtunities for hiring boat for a trip or for fishing. Here are two suggestions. At the Marina at Cabo Roig there is Stella Maris.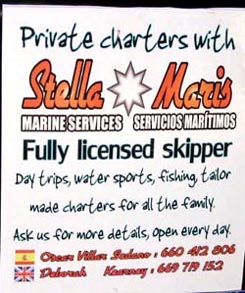 Or you could investigate Charter Muffy

You can also visit the nature reserve Parc Natural de la Mata Torrevieja. There is a personal comment from a visitor here.
Or you can look up the official website for the nature reserves in Valencia.

My final idea is the Orihuela Costa resort – it has a hotel, gym, tennis, swimming pool and sunbeds. It is on Avenida de la Palmeras, La Zenia. It is marked as a red H on this map.

So here are ideas and links for outdoor activities.

You can also find ideas for kids and teenagers, which includes an indoor children's play area.

And there is a section for the many Theme parks in the area. And useful links for information about getting about, the free English language local newspapers and the official Spanish tourist websites.

Return from Things to Do Outdoors to Things to Do

Return to the Visit Playa Flamenca home page

Page started 21st September 2008
Page amended 1st December 2008